The 4th seminar of the Global Child Law Fellowship continued to discuss best practices of lawyers and legal professions in the field of child rights protection and legislative advocacy. Four fellows introduced their best practices in the areas of  promoting early access of counsel, diversion for child rights cases, ending early child marriages, providing training for local community, among many other areas.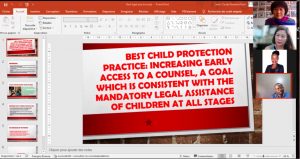 Jean- Claude Barakamfitiye
Jean introduced his best practice regarding child protection in Burundi. It increased early access to counsel, a goal consistent with the mandatory legal assistance of children at all stages. He conceived the project in 2017, and 318 children have been provided with legal assistance by lawyers in the framework of the project. Nearly 80% of them were granted acquittals, or their cases have been dismissed. The project had many satisfactory outcomes. For example, it reduced the average time to get access to a lawyer down to three days after being arrested. Moreover, the importance of receiving legal assistance for children is recognized by many relevant stakeholders.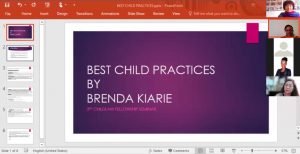 Brenda Waithera Kiarie
Brenda shared relevant international conventions and laws in Kenya that were implemented for the children's best interests. All these guidelines have led her to work better as a child practitioner. Brenda is keen on advocating for a non-custodial sentence and out of court settlement through plea bargaining and diversion. In 2018, the US Embassy in Kenya carried out a benchmarking service week to encourage the Children's Court to plea bargain to conclude children's matters within the shortest time possible. She gladly participated throughout the process. It was a success, and many children reunited with their parents and went back to school.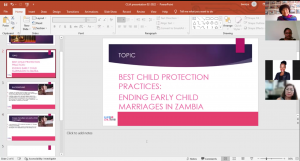 Bwalya Violet Chisenga
Bwalya introduced her best child protection practices regarding ending early child marriages in Zambia. According to Bwalya, there is an increase in early child marriages, especially in rural areas, as some families see child marriage as a way to reduce poverty. People give away their children in return for dowry (bride price). Her organization has dealt with 105 cases of early child marriages in 2021. As a tele counselling NGO, they receive cases through their free helplines and use their networks to provide help. Regarding one case that Bwalya took charge of, she applied the Education Act and the Marriage Act. She saved an under-aged girl from marrying a man with two wives already. That girl also got sponsored by the church to continue her education.
Godfrey Gimeno
Godfrey shared his best practices in Tanzania as a child protection lawyer. He has managed to inspire and convince more than 25 young lawyers to consider joining the network of child protection lawyers. Apart from access to knowledgeable child-related personnel by the locals, thoughts will flow through the network, and experiences, challenges and local solutions will be gathered and shared amongst the lawyers. The network, as it expands, will enable expertise to be closer to the areas in dire need of the service far from urban cities and municipalities. They will also link up with Members of Parliament (MPs) in their constituencies for child-related legislative advocacy, collaborate with the local government authorities in establishing Community Children's Desks, and engage in training local community and in advising and representation in courts of law and tribunals. Godfrey is convinced that child protection work will thrive with more lawyers involved with the cause.