Writer Li Ping
Beijing Children's Legal Aid and Research Center was established in 1999, the first NGO set up by professional lawyers to protect the rights and interests of minors in China. Over the past 20 years, the Center has played an important role in the field of child protection in China. With the development of China's economy and society, we hope to contribute to the global child protection cause, and one of the ideas is to train professional child protection pro bono lawyers. With extensive experience in promoting child protection in China, the center decided to begin the project of nurturing lawyers in other counties. Professional child protection lawyers can perform their duties in legal cases, raise the awareness of legal knowledge among the pubic, and reach out to other lawyers for pro bono service for the protection of minors. In addition, they can promote and participate in legislative and policy reforms. In 2004, the center launched the project of One Professional Child Protection Lawyer Influences a Province in 15 provinces across China. The center has supported 15 professional child protection lawyers who have become assistants to the directors of the Minors Protection Committee of their provincial bar associations and are fully involved in the protection of minors in their provinces. This project achieved satisfactory result. Currently, Li Xiaoxia from Jiangsu province and Yao Weiyao from Anhui province are the lawyers who participated in this project at that time, and they are now playing an important role in the field of protection of minors in their provinces.
Based on our knowledge and experience in this field, we decided to promote professional child protection lawyers in other developing countries, hoping that these lawyers will play a leading role in promoting the development of minors' protection in their countries. In 2019, Alibaba Group and the center collaborated to start this project in Kenya. Ms. Joy Katonge became the first overseas child protection pro bono lawyer supported by the project. After a year, Alibaba withdrew from the program and the center continued to support the project. In September 2021, the center launched the International Child Protection Pro Bono Lawyer Program. We have supported 12 child protection lawyers in eight countries. Ms. Joy Katunge grew into the project's coordinator.
Ms. Joy Katunge is a lawyer with nine years experience in child protection work. She currently works for Kenya Alliance for Advancement of Children (KAACR) as a legal officer. Her role includes but is not limited to, child advocacy, providing legal aid to children, carrying out legal training to different audiences as well as participation in lobbying and reviewing legal policies and legislation. In addition, she is implementing the She Leads Programme through which she supports and empowers girls to advocate for their space/voice in their society. At KAACR, she supports research work, and is keen on ensuring Child Online Protection. She supported the just completed Disrupting Harm research by ECPAT where she was instrumental in data collection for the research in Kenya. Previously, Joy worked at Childline Kenya as a legal officer. She set up and managed the helplines legal docket to offer support to children and their families. During this period, she developed and successfully used a training frame work on the legal aspects on child protection and mapped out and linked the helpline with pro bono legal services in target counties. At ChildLine, she implemented a project on Online Child Sexual Exploitation and Abuse, an area on child protection. Joy is an Advocate of the High Court of Kenya. She holds an LLB from Kenyatta University and a post graduate postgraduate diploma (Advocates Training Programme) from Kenya School of Law. She is a core member of the Kenya Technical Working Group for Online Child Protection and that on missing children. Joy is also a convener for The Law Society of Kenya-Nairobi Branch Public Interest Litigation and Legal Aid Committee.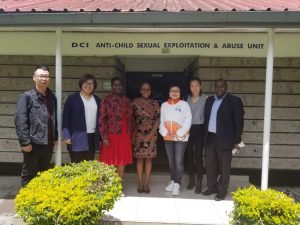 Recently, Ms. Joy shared with us the stories about her upbringing, the role of her parents in shaping her character and career development, and how an admired female lawyer started her career in child rights protection. Through her professional perspective, Joy also analyzed the progress and challenges of child protection in Kenya and the unique role of NGOs in it. Joy also shared with us how participating in the Beijing Children's Legal Aid and Research Center's collaborative program has made a huge impact and difference to her, and raised expectations for continued collaboration and learning at the Center on Child Rights Protection in the future. The full interview with Joy is presented as follows.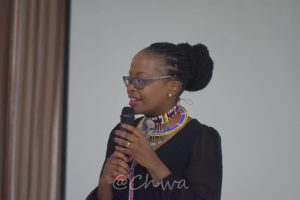 1.Could you tell us about your family? What do you think was the biggest influence your parents brought on you?
I am a firstborn in a family of three – sister, an advocate of the high court of Kenya and a brother that is into business. Growing up, my father worked as a cartographer at the Kenya National Bureau of Statistics. I remember the many weekends he would take us to his office to just have a feel of how a white-collar job felt and teach us how to interpret maps that he was working on. My mother, was a stay-at-home mum up until I joined college that she ventured into business now that she had more time on her hands with all of being in college.
I believe my parents' keenness in my studies, specifically on the learning areas I loved and thrived in was the first role they played in shaping my career. At the primary level, they encouraged me through my academics and supported me in extracurricular activities such as debate club, scouts and even sports. I excelled in my studies and became the first girl in our school and position three overall. The good grades secured me a place in the prestigious State House Girls' High School where their support remained unwavering. In high school, they guided me through choosing subjects that would usher me into opportunities of interest. By the time I was joining the university, I knew with no doubt I wanted to pursue law and they not only supported me financially but gave me guidance on the choice of units as well as helping me with applications for internships, clinical externship and even judicial attachment. Their support did not end there, they fully paid for my fees at the Kenya School of Law where I was pursuing a postgraduate diploma in law and were there to witness my admission to the bar on 31st March 2016! They have literally walked the journey with me.
Mentorship and career guidance from a very early age by my parents is something I will forever be grateful for. Taking from this, I mentor every young person working around me who is keen on pursuing, the same cause that I took. Mentorship fuels passion.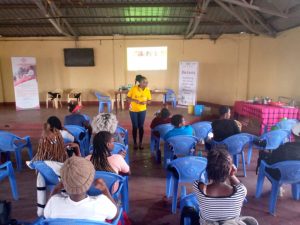 2.What kind of community did you live in? Are such communities common in Kenya? Was there anything in this community, or elsewhere, that you experienced, heard, or witnessed that planted a seed in your mind that influenced your choice to study law in college?
I grew up in the outskirts of Nairobi, the capital city of Kenya. We were an average family; I'd say we never lacked the basic things. I grew up in a community where discipline was a collective responsibility amongst the adults. You had to act right because somebody somewhere would be watching on you and misbehaving would warrant you some beating. The mantra was: "Do not be a servant of an eye". This seems to have changed as a child is a parents' sole responsibility, and not necessarily that of the community. Discipling another persons' child in whatever manner is viewed as stepping into another family's space which could actually land you in legal troubles.
Sticking to our mantra, I learnt to obey rules and regulations in all spheres, home, school, church among other many areas. I learnt that as a child, you had your rights that were actually protected by law, culture and even church teachings. In primary schools, we actively learnt about the rights children had but at the same time corporal punishment was being meted out. Every time I got beaten by a teacher in school, I always went home disgruntled to report to my parents and especially my father who had never used a cane to punish us. An indecent I remember, is when during an afternoon mathematics class, I was beaten for wrong committed by my desk mate. No matter how much I tried to convince the teacher, he kept on using the cane on me. As usual, I got home and told my dad about it. The next morning, he escorted me to school and demanded to have a sit down with the teacher responsible. Everyone gave their side of the story and a few of my classmates were called to give their side of the story. In short, I won my first case! The teacher was laid off and corporal punishment was abolished. On the downside, I was frowned upon by teachers but again, my father always assured and reassured me that what I did was the right thing. This sparked a fire in me of being the change I want to see and being a voice to ALL the children, even those that do not seem troubled like I was, being that I school in one of the best private primary schools in the area.
3.Did you become a lawyer right after graduating from university? Are there many women lawyers in Kenya? What is their social status?
Yes, I became a lawyer immediately after graduation and proceeded to the Kenya School of Law for my Advocates Training Programme, where I achieved a post graduate diploma and got admitted to the bar of advocates in 2016 to practice as an advocate. In Kenya, once you graduate with an LLB you are a lawyer then you pursue a postgraduate diploma in Law, which upon passing your petition to become an advocate of the high court of Kenya, meaning you can now practice law.
Being a woman lawyer in Kenya is revered and they are highly respected. There are about 10,000 practicing women lawyers and there exists the Federation of Women Lawyers -FIDA Kenya, a non-profit, non-partisan and non-governmental membership organization for women lawyers committed to the creation of a society that is free of all forms of discrimination against women and girls.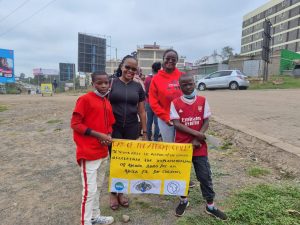 4.What made you pay a close attention to the protection of children's rights and decide it as your long-time career?
My internship experience at the national children's helpline-116 helped me realize that I had the opportunity to help a child and create change which has been my driving force. When interning, the helpline had no legal counsel and all the legal cases received were being referred to other entities. As a law student who has taken up an elective course on Children and the Law at the university, I had a chance to share my expertise. I offered man hours to the helpline as it was not only very fulfilling but also an opportunity to grow and horn my skills. By the time I got admitted to the bar, I had set up a fully operational legal docket with a database of pro bono advocates that were giving legal aid to child victims of abuse. The area of child protection is still not fully exploited and is shunned as it is said not as lucrative as other areas of the law. For me, it is the personal fulfillment as I help the vulnerable and the change I make in the lives of the children I assist. As a career, child protection is very diverse and there are even emerging areas where a budding lawyer can easily cut out their niche.
Joining KAACR under the BCLARC project cemented my conviction that indeed, I was cut out for Child protection. In the close to three years that I have been engaged at KAACR, I came to a sweet realization that other than direct service provision to children, I could actually make a bigger impact through advocacy. The experience has been full of learnings and immense exposure to the larger world of child protection. I have gained skills, knowledge, built networks in my community of practice that have affirmed to me that Child protection is what I want to pursue.
5.Do you remember the first case you handled concerning children? What was the biggest impact on you?
Yes, I do. It was a case of a 7-year-old girl who had been sexually abused by her father who at that time, was not on good terms with her mother. The father was a person of influence in the community and had been frustrating all the efforts to have the case prosecuted. When the girl's mother reached out, all she wanted was justice for her child who by then was still admitted to hospital as a result of injuries arising from the ordeal. I began following up at the police station, where a simple act of amending a charge sheet saved the day. The charge sheet had only mentioned attempted defilement yet the child's mother had presented a post-rape care form confirming defilement and later on results showing that the perpetrator had infected the child with HIV/AIDs.
This case had a great impact on me because, in as much as I was not yet admitted as a practicing advocate, I was able to follow through and offer support to prosecution to a successful end of the case which saw the man serve a lifetime term. This experience taught me the need for effective case management, down from when the case is reported and also the fact that everyone in the justice system needs to be sensitized on child protection.
6.You worked as a law program officer at ChildLine Kenya and are now with Kenya Alliance for Advancement of Children (KAACR). Why did you choose such Non-government Organizations as your career development platform for children's rights?
The beauty about being a lawyer in the child protection space is that I am able to offer legal support to children beyond the organization I am working for. A lot of child protection NGOs in Kenya lack the aspect of legal support and most times, we as KAACR are called in to support. Working with NGOs has offered me credibility when seeking out for services for children and a platform to bring other like-minded advocates onboard to offer legal support to child victims of abuse. Further to this, NGOs have given me an opportunity to learn and exercise the skills gained in research and project management. More to this, KAACR has offered me an opportunity and platform to participate in policy review and reform at both national and county levels. The opportunities for career growth abound in child protection.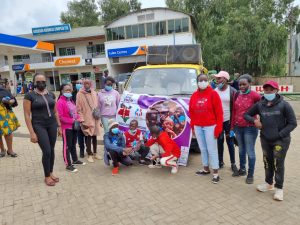 7.You have personally participated in or presided over many projects related to the children's rights. From the perspective of scalability and sustainability, which project is the most successful and what are the implications it brings to you?
The project I would vouch for is one on the online child protection-particularly on Online Child Sexual Exploitation I implemented in 2018 in Nakuru County and has been expanded to cover over 10 counties currently. The environment we are living in has been thrust to the digital realm thanks to the COVID-19 pandemic. This has shifted a lot of the former face to face interactions to the online space. This includes both education and entertainment. The situation is not about to change and now, more than ever child protection actors need to scale up their child protection programs and realign them to fit the current context in which child abuse is happening. The long hours of unsupervised internet use for children have led to an increase in the reported cases on Online Child Sexual Abuse and Exploitation. Successful prosecution of this cases remains a big challenge as there are loophole within the justice system caused by the lack of capacity by the justice actors. In the past I have trained various stakeholders on how to ensure safety of their children online and how to report to incidences. The government as well as child protection community has shown great interest in the area, which is evidenced by the enactment of the Computer Misuse and Cyber Crimes Act and the Data Protection Act and the National Plan for Action on OCSEA. The Children's Bill if passed into law will ensure that the offences under OCSEA are captured in that particular statute.
A similar project will give me an opportunity to pass the knowledge and experience I have amassed on the topic. I have undergone trainings by The African Advanced Level Telecommunications Institute (AFRALTI) on Child Online Protection and use of digital mobiles by children, by Terres des Hommes-Netherlands on OCSEA and by The University of Pretoria on the right to privacy in the digital age in Africa, making me a seasoned and most recommended lawyer on matters Child Online Protection in Kenya.
8.In recent years, the Government of Kenya has actively promoted the protection of children's rights and had ratified various international instruments on Children's Rights. From your experience and professional perspective, what progress has been made in the protection of children's rights in Kenya? What are the challenges?
From my perspective, there has been a lot of progress in protection of children by the government. This is evidenced by the Kenyan Constitution of 2010, which has Article 53 providing on the rights of the child and Article 2 provides that international law shall form part of the law of Kenya.
Efforts have and are still being made to align the existing laws with the provisions of the constitution and there has been deliberate inclusion of child protection clauses in recent legislation and development of policies that directly impact on children.
Despite there being good will from the government. Implementation of these laws remains the biggest challenge due to limited resources. The second challenge has been lack of prioritization of children in areas that affect them such as budgetary processes, lack of child participation in the legislative process, yet they concern and affect them.
9.In response to these challenges, what role do you think NGOs, especially KAACR, play as a national institution with more than 200 child protection member institutions in Kenya to carry out child rights cooperation and information exchange? What have been achieved so far?
As KAACR we actively monitor the implementation and domestication of county, national and international child rights instruments in Kenya to ensure that the best interest of the child remains paramount and that their opinion and input as children is sought and included.
As cited above, implementation remains a challenge due to resources. Through our networks and the partnerships, we have built over time, we leverage on each other's resources to complement government efforts in a bid to have increased visibility of children rights
With the partnership with BCLARC, we are now able to holistically handle all the children issues forwarded to us with legal professional confidence.We have been able to learn and replicate coordination of legal practitioners across the county,meaning we are creating impact to the children we work for at minimal cost.
Firstly, We have been able to continue protecting the children through the use of technology at different spheres especially when there was a total lock down.
Secondly, We held webiners to sensitize members of the public on various aspect of child protection.
Thirdly, We supported member organization with our virtual meeting platforms to enable them work during the lockdown.
Fourthly, We managed to have persons working in the child protection sector get gazetted as essential services.
Lastly, We continue to offer expertise to the department of children services by seating in the technical working group on missing children and that on child online protection.
10.The protection of children's rights is a global issue that requires international and regional cooperation. To this end, the Beijing Children's Legal Aid and Research Center is committed to building a more dynamic global platform. In the past year, you have been working with the Center to carry out project and participate in some international conferences. Is this the first time you have cooperated with a Chinese social organization? What impact and changes does this cooperation platform bring to you? What are expectations for future cooperation?
This is the first time to have cooperated with a Chinese social organization. The experience has been great and full of learnings. I have received many mentorship to become the child protection expert I am today.
Initially, learning about the best practices in China and more particularly the model on working with the Bar to ensure legal representation of children. This was a new approach as initially, all efforts were individual from my own networks and those of K.AACR. I'm now implementing what I have learnt through the partnership with BCLARC in Kenya by ensuring that children cases do not get to court unrepresented.
Furthermore, through the various international conference that I have attended, I have learnt on the need to advocate for child protection in all spheres. Through the first year of implementation, funded by Alibaba, I took with me the need to forge the partnerships with private sector as well as child protection issues are cross cutting issues.
Additionally, the cooperation has given me a platform to bring together like-minded practitioner of law to provide legal aid to children. This has been made possible by mobilizing them into a network and also through the Law Society og Kenya where I convene the Legal Aid and Public Interest Committee. Through the committee we have been able to offer legal awareness and representation to and representation to children and their families.
Finally, the webinars too have been quite insightful. They have opened opportunities of learning from other countries through the partners of BCLARC that attend and facilitate the webinars. Through this, I have shared our Kenyan situation on child protection as well as learned from others that I have interacted with through network.
With the immense growth and partnership this project has seen, I look forward to having a funded project that will ensure that no child is denied justice for lack of legal support. Secondly, I look forward to helping other countries emulate what we are doing in Kenya, basically scaling it up to a regional level. Finally, I look forward to under learning from an expert from BCLARC and a possible visit to be capacity built and experience and learn of the systems in China with the hope of observing, learning and replicating and customizing my learnings to fit the Kenyan context.