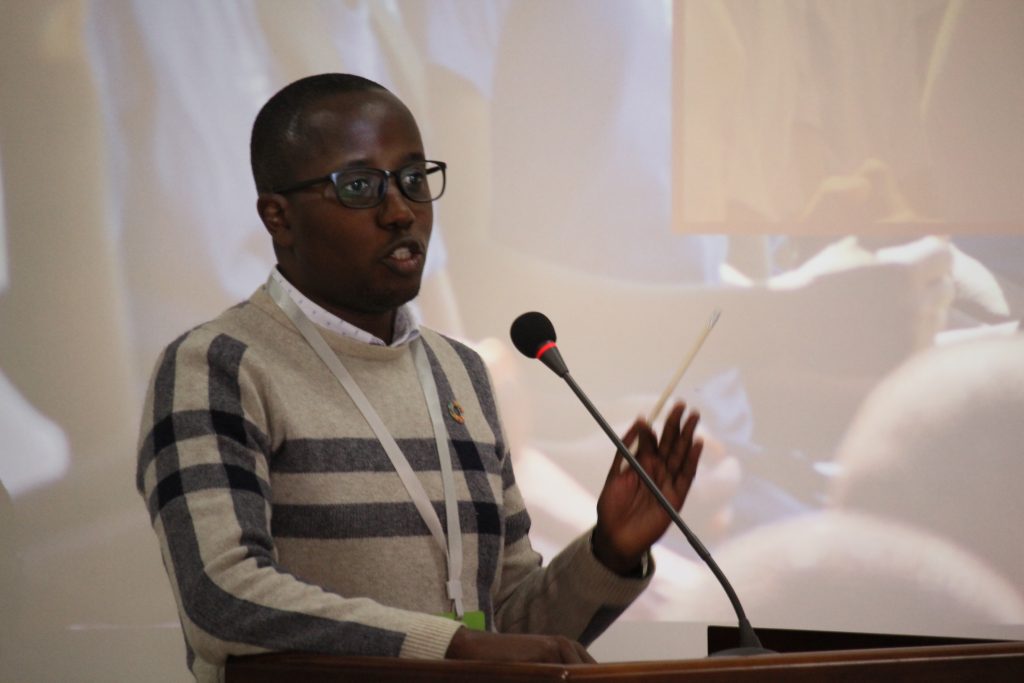 By Kiiya JK, Global Leadership Seminar on Child Protection participant
The most outstanding aim of the seminar according to organisers, Beijing Children's Legal Aid and Research Center (BCLARC), was to build a dynamic cooperative platform for global child protection. I must add may be it will be more fitting to say 'a dynamic cooperative platform for Global South child protection?'
We have seen the West leading most of child protection efforts in the world. Be it through official UN statements, official policies by most of the western governments or through organisations such as Save the Children, Plan International, SOS Children Villages, just to mention a few. What BCLARC is setting up to do is unprecedented in our part of the globe and I am happy to confirm that the seminar – was well organised. A lot of thought went into its preparation and delivery including thinking about participants as human beyond their work with justifiable needs comprising of tours around Beijing – and UNESCO World Heritage Site, the famous WALL of China.
The conversations throughout the two weeks' seminar focused on experience sharing sessions to make child protection not only responsive to children's needs, but also a noble profession recognized by communities we serve and governments within and without our countries. The organisers invited key officials from Alibaba and TikTok both leading corporates in the world today – and BCLARC's partners on child online protection and their new quest on this global mission. They also invited UNICEF China Country Office, Ford Foundation and some prominent China government officials.
It was interesting to visit some field work implemented in partnership with other organisations. First things first, did you know that the government of China invited the US based Ford Foundation in the 70s to set up shop in Beijing with aim to 'help formation of NGOs work in China?' Ford Foundation has been in China ever since advising government on NGOs environment and offering grants to select NGOs including BCLARC. It is therefore fair to say that the NGOs work in China receive better support – both policy and financial from government than most 'democratic' African governments.
Barefoot Social Worker, an award winning innovative initiative aimed at responding to limited social works' workforce in developing world was conceived jointly by UNICEF and China Philanthropy Research Institute, an independent organisation of the Beijing Normal University. Besides implementing multiple projects, China Philanthropy Research Institute houses university professors leading policy research work for the government and private institutions in China.
There were multiple emotional moments, but a seasoned lawyer Wang Yiwei's story hurt my empathy nerves most. Her story is of kindness and passion combined. She has been reaching out to the most poor through education and medical aid for the past 12 years and most of her funding comes from her own clients and fellow lawyers. Together they have helped 1,200 children. She was very specific in her story sharing session painting lifelong pictures of her beneficiaries, their houses and their specific needs vs. how she helped. My eyes drip with tears over her narrations. At some point she could not stop her emotions anymore – for a pair of tears raced down her cheeks! Were they tears of joy vs. sorrow? She cried with sheer happiness and relief.
Finally on the field visits, we learnt of a social worker / child rights organisation that offers profession services to children in need of care and their families. It was enlightening to learn that government of China supports their work through grants. That both their expert opinion and social investigation reports are relied upon by the justice department as evidence during court trials.
Su Wenying, a child protection officer and researcher at UNICEF China Country Office, was invited specifically to share her experiences on child online protection – where most of her research work focuses. Moving beyond a narrow, negative definition of child online protection as "keeping children free from violence, abuse, and exploitation on the internet," Ms. Su encouraged us to adopt a broader, positive definition that focuses on fostering "safe and sensible internet use to ensure that the full potential of a child can be fulfilled." Ms. Su encouraged participants to not panic, and instead work with children to find ways to achieve the internet's potential for good.
BCLARC as their name goes are focused on legal aid provision for children and their families. Founded about 20 years ago, BCLARC has been pivotal to development of child protection work through legal and policy reforms, besides drafting children laws in China. In my opinion, China's child justice system owes its first baby steps and current maturity to this organisation. Besides leading legal reforms through lobbying and court litigations, BCLARC has also pioneered some great work within China's Bar Association by setting a special committee on Child Protection – subscribed to by thousands of lawyers across the country mostly working as pro-bono to serve children interests in courts of law.
It is within this spirit of both professional and pro-bono services that BCLARC wants to reach out to other parts of the world, share their experiences, learn local contexts and support some organisations in those few countries to replicate their success in China.
To start this off, Kenya will be piloting this initiative starting this August 2019 with support from Alibaba. The success of this pilot project could mean that more and more developing countries especially in the Global South will be beneficiaries of BCLARC's efforts. Besides this direct cooperation with select organisations, the meeting also agreed to form an international platform for knowledge and experience sharing. The platform will allow child protection professionals across the globe to send in concerns on policy or legal reforms and receive feedback based on other countries' experiences and ground work.
In Tong Lihua's words, BCLARC's Founder and Director, this way we will be able to empower one another in three folds: empowerment through professional capacity building; empowerment through partnership; and empowerment through networking!
About the author
Kiiya JK is the Chief Executive of C-Sema, he attended the Global Leadership Seminar on Child Protection. Kiiya JK has over 15 years of experience in the area of child protection and children services in Tanzania. Over the years he has worked with teams to develop and implement programs aiming to give voice to children through evidence generated data. He has been instrumental in building synergies important to advance children's agenda in Tanzania. He pioneered the formation of National Child Helpline in Tanzania – a free-of-cost and open-to-all public telephone line for children services in Tanzania in 2013. In 2017 and 2018, he worked to establish Tanzania Child Online Protection Taskforce. Jointly with Internet Watch Foundation, he created an online hotline to report and remove images and videos of child sexual abuse. In November 2019, jointly with International Centre for Missing & Exploited Children, he will oversee the launch of Missing Children Tanzania.